Odd Timing For Sullivan Move Upstairs
October 16th, 2013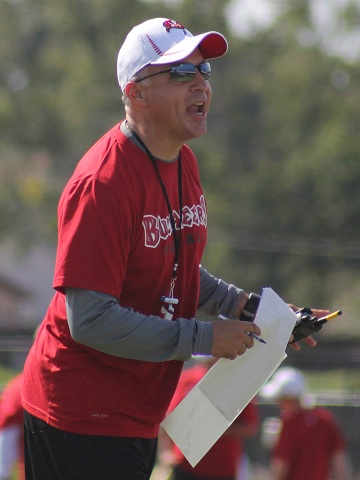 Offensive coordinator Mike Sullivan spent his first Buccaneers game coaching and calling plays from the press box area Sunday against the Eagles.
Was he banished upstairs by Greg Schiano? Not at all. Sullivan said today it was his idea to get back to the bird's-eye view.
Sullivan was asked about the move at his weekly news conference this afternoon, and Sullivan stressed that he spent "two years in Jacksonville and then eight years with the [New York] Giants, I was always in the press box."
Sullivan was clear the move upstairs was his idea discussed during the bye week, and it was beneficial and will continue.
"I know from all those years being up in the press box there's a perspective and a vantage point that you get that I felt would be beneficial," Sullivan said. "So I just switched with John McNulty, who is the quarterbacks coach. So he's now on the field and I was just relaying the calls in to him. And so it's something that gives an added vantage point that I think is helpful from the standpoint of not seeing at ground level but having that bird's eye view so to speak."
This really struck Joe as odd.
Why did Sullivan make this move 21 games (plus eight preseason games) into his Buccaneers career? Was he not permitted to call plays from upstairs previously by Schiano? Did Sullivan feel Josh Freeman needed 1-on-1, face-to-face coddling but Mike Glennon doesn't?
Hopefully, this will help the Bucs' bottom line on gamedays. Something has to take this offense out of the NFL cellar.