Team Glazer And Schiano "Talk Often"
October 16th, 2013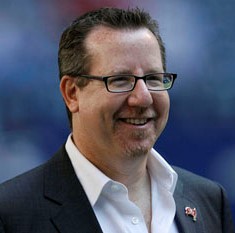 A seemingly physically subdued Bucs commander Greg Schiano took to the podium this afternoon for his daily press conference and was mostly barraged with questions about injured players sidelined and those expected to resume playing after being banged up.
Then, there was a question about Team Glazer. Schiano was asked if he has spoken with Team Glazer recently, since the Bucs are mired in spiral of losing 10 of their last 11 games and are still looking for their first win of the 2013 campaign.
Yes, Schiano said, he has spoken with Team Glazer. Quite a bit in fact. But that's when Schiano slammed the door shut on the question or any possible follow-up when he said with a stern, direct, clear and firm voice, "We talk often. But what we talk about is confidential. But we talk often."
So apparently, Team Glazer is talking. To probably their most high-profile employee.