Vikings Treat Players With Quality
October 16th, 2013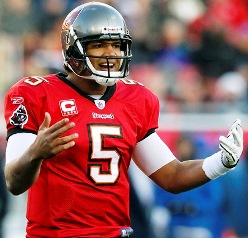 Former Bucs franchise quarterback and current Minnesota Vikings starting quarterback Josh Freeman had a few brief words for the Vikings' pen and mic club and, apparently, he just cannot turn the page on the Bucs, tossing out a not-so-veiled reference to Bucs commander Greg Schiano.
Twittering from the land of a thousand lakes, Tom Pelissero of USA Today jotted down a few of Freeman's thoughts this afternoon.
@TomPelissero: Freeman also emphasized the #Vikings org has people committed to being "quality human beings" and "they do things the right way around here"
OK, so Josh had his (handsomely-paid) feelings hurt by the big, bad coach in Tampa. You know, Josh, Joe is just going to guess that if you didn't one-hop so many passes to running backs, if you didn't mistake so many opposing cornerbacks for teammates, if you didn't force so many passes to DJ Toes on the Line, and, you know, won a few games, that the big bad coach wouldn't have been such a bully to you all along. In fact, he would have given you a hug and made sure you had cookies and warm milk before you went to bed each night. Chocolate chip cookies, in fact.
This just demonstrates what Freeman's detractors have stated all along, that Freeman still has some growing up to do.
Has anyone heard Christian Ponder whine and complain and cry and bellyache and demand to be released or traded? Joe hasn't.
Then again, Joe would be content with life too if he came home to Samantha Steele each night.