Not A "Total Statue"
October 17th, 2013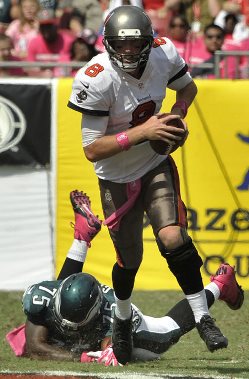 One thing that worried Bucs fans about starting Mike Glennon and benching (and later booting off the team) defrocked franchise quarterback Josh Freeman was that Glennon is about as mobile as a telephone pole.
With the Bucs' offensive line struggling, Glennon, who Joe jokes is so immobile that teammates have to brush the pidgeon droppings off his shoulders, would get creamed in the backfield.
Well, Bucs offensive coordinator Mike Sullivan thinks Glennon has some sneaky moves.
"I didn't think he was a total statue, as maybe some others did, but he's shown a mobility," Sullivan said Wednesday at One Buc Palace. "The thing that we've seen in practice, and I think we've started to see in games is his ability to throw well on the move as well. Extending the play, a third-and-13 or-14 and he scrambles, that was tremendous and that's a great dimension but I think you hit the nail on the head. He moves better than I thought and I think that the thing I had seen in some of those plays that I alluded to, as far as looking at him in college and saw through all of our practices and have seen in all of the games is his ability to throw on the move.

"He's got very good accuracy. We're not going to turn into a read-option team, but there is a mobility that he has, newsflash. At this point, whatever we can take, whatever can get some points on the board."
Joe just wishes those points on the board would happen more frequently in the second half, but maybe Joe is just greedy.
It's good to know Glennon can move a little bit. Sullivan started to hit on something there. Dropback quarterbacks aren't necessarily immobile. Dan Marino, for example, couldn't run to save his life but he did have nimble feet and was able to move in the pocket well to buy himself more time.
Showing an ability to dodge traffic to allow a receiver to spring open could be a key to determining if Glennon will get a chance to be the Bucs starting quarterback next fall.