Nick Foles To Start For Eagles
October 9th, 2013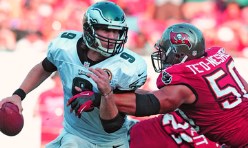 Joe isn't sure this is good news or not. Nick Foles will be the Eagles starter Sunday against the Bucs because Michael Vick has a tender hamstring.
Remember, folks. It was Foles, as a third round draft pick of a rookie, who beat the Bucs at the Stadium on Dale Mabry Highway last year.
Now, on face value, one would think wundercoach Chip Kelly (are Bucs fans still pining for this guy?) may scrap the read option because Foles is about as mobile as a mailbox. Bucky Brooks takes a look at how the Eagles' offense may change with Foles, but scrapping the read option is not one of those changes.
Kelly's offense has been met with skepticism from traditionalists who question heavy utilization of the read option, but there is no denying the success of the Eagles' running game. Philadelphia comfortably leads the NFL in rushing yards per game, partially due to the confusion created by the read option at the point of attack. With Vick at the controls, opponents were forced to assign a defender to the quarterback, reducing the number of defenders in the box to stop LeSean McCoy. As a result, opponents were unable to effectively bottle up the Eagles' ground game.

Although Foles definitely is not a dangerous runner like Vick, the Eagles will continue to use the read option. The simple threat of the quarterback keeping the ball or firing out a bubble screen to the perimeter is enough to keep a handful of defenders from pursuing the ball aggressively, which leads to bigger running lanes on the front side.
Foles may be a better option than Vick in that one could argue Foles is a better passer than Vick.
But Joe gets the sense the unknown factor of how, or if, Kelly will change the offense with Foles ccould be enough to confuse the Bucs' defense early Sunday.