What Went Wrong With Josh Freeman?
October 9th, 2013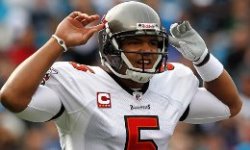 Joe knows some readers roll their eyes at Josh Freeman stories. That's too bad. Freeman's ousting from the team may be the biggest story to come out of One Buc Palace since Chucky was jettisoned.
When a proclaimed franchise quarterback, a first round quarterback, is cut midseason, before his contract runs out, that is huge news and speaks to a lot of things going on behind the scenes at One Buc Palace.
So what went wrong with Freeman? Tom Pelissero of USA Today decided to ask scouts and, essentially, it seems a combination of bad coaching from his quarterbacks coaches along with mental struggles on the field doomed Freeman with the Bucs.
"You see the physical tools," the second scout said, "but you see regressive qualities in his footwork, mechanics, location – the technical precision of the game that is required to play that position beyond the physical dimensions that you can evaluate."

A new scheme and new coordinator last year may have hurt. But it's disappointing, the second scout said, that Freeman didn't continue to grow as the Bucs gave him more weapons, including receiver Vincent Jackson and running back Doug Martin.

"The up-and-down play, the inconsistent performance, selective decision-making under pressure," the second scout said. "Some of those things you wouldn't expect for a guy who was a developing player in Year 3 or Year 4 of the maturation process."
So Ron Turner and John McNulty weren't much for mechanics, eh? Who would have thought?
When Joe read this, the first thing he thought of was last year when Shaun King, one of three Bucs to lead the team to an NFC championship game, famously said that Freeeman needed a shrink.
Look, if you hire position coaches who openly admit they don't teach mechanics and technique, should Freeman imploding really surprise anyone?