MIke Glennon And Todd Marinovich
October 17th, 2013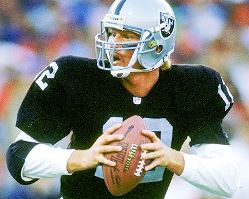 Invoking the name of former NFL quarterback Todd Marinovich usually brings out ugly thoughts.
A quarterback who was brought up by an out of control father, who tried his best and largely succeeded to raise a young boy and to build him from a toddler into an NFL quarterback, young Marinovich suffered terrible side effects. He was all but drummed out of the league for using a Woodstock-like grocery list of drugs including amphetamines, cocaine and, lastly, marijuana.
Even more startling, Marinovich, while still in the NFL, began dropping LSD thinking it would not show up on NFL drug tests, which may have been why his final NFL passes resembled Blaine Gabbert's.
One lesser known milestone for Marinovich was that he set a rookie record with the Raiders for passes attempted in his first two NFL games at 99.
Guess who is No. 2 on the list? That would be Bucs quarterback Mike Glennon with 86. Want more fun facts? Glennon's 50 completions in his first two games is the most by a rookie in his first two games since Cam Newton came into the league in 2011.
Impressive? Yes. Concerning? Yes.
Joe's not sure why the Bucs are calling for a green-as-grass rookie to be launching the ball so often. At least with Newton, when he was a rookie, and to a lesser degree RoboQuarterback, they were expected to play. Newton was the opening day starter.
Until Bucs defrocked franchise quarterback Josh Freeman melted down, there was little expectation of Glennon (except from the Mike Glennon Mob), barring injury to Freeman.
Of course, one reason the Bucs have Glennon airing it out so much is that the Bucs may realize they are not getting much of a push from their offensive line, thus rendering Pro Bowl running back Doug Martin ineffective.