Mark Barron A Rising Star
October 11th, 2013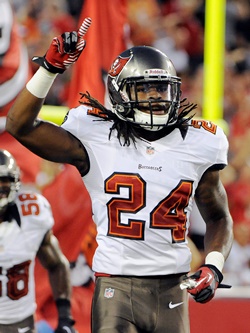 Yes, Joe is trying to uplift Bucs fans' spirits of late amid all the drama and circus at One Buc Palace.
Joe knows some fans are tired of reading about Josh Freeman, but that's not going to stop Joe from ignoring a far-reaching story, one that will have legs for the rest of the season and beyond, a story that is likely the biggest Bucs story since Chucky was jettisoned.
Yestserday, Joe wrote about how linebacker Mason Foster is improving from last year, when Joe thought at one point he was en route to eating pineapple. Well, Foster is not the lone Buccaneer who may be eating pineapple for the first time this season. So too may safety Mark Barron. Bucs commander Greg Schiano spent a good chunk of time yesterday lauding Barron's play in his second year in the NFL.
"I think he's playing at a very high level, and I think [safety Dashon] Goldson and [cornerback Darrelle] Revis had some effect on that, too." Schiano said. "I know you don't want to go back to that, but I think, together, they're a really tight group and now [cornerback] Johnthan [Banks] and [cornerback] Leonard [Johnson], those five guys, I think, have a good feel for each other, and they're going to need to. This game [against the Eagles], especially, presents some unique issues, when you're dedicating resources. Defending is: 'where do you dedicate your resources?' If you dedicate your resources to stop the run, you put people a little more exposed in the pass. We're going to be challenged, so those guys need to step up. Mark is playing at a high level and getting better each week, which is important."
One reason  Schiano believes Barron has developed so much this season, aside from playing alongside Revis and Goldson, is that he is a more well-rounded player.
"Especially now, with him playing down in the dime [package] – which he's a natural at – plus he plays well as a run support safety and he's a much better deep defender than people give him credit for," Schiano said. "I think, sometimes, when you're big and physical, they say, 'You can't play the deep ball.' He can. He's gifted that way. Mark's got all the makings to be an elite guy. I think just time and reps is going to be the only thing in between him [and becoming elite]. [That] and staying healthy."
If the Bucs defense continues to play at a high level, remember that it is Schiano who has molded this defense. Of course, that won't preserve Schiano if the team continues to lose at a near-franchise record pace. Now, when you are constructing your guillotines, also remember that this defense is largely made up of players acquired by Bucs rock star general manager Mark Dominik.
Joe just cannot understand the vile hatred some fans have for Dominik. Would they rather have Chucky striking out draft after draft and having to rely on the Son of Bobs and Charlie Garners of the NFL world?