"It Isn't About Me"
October 25th, 2013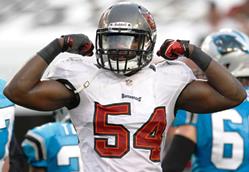 Joe thinks he is doing a fine job on covering the Bucs. Why? Well, Joe notices readers on this here corner of the interwebs think Joe is too harsh.
Yet the past couple of days, Joe has been told by others in person he is too soft on Bucs commander Greg Schiano.
This tells Joe he message is getting out perfectly.
Speaking of perfectly (and for those who need a cuddly blanky to wrap themselves in as they prepare for bed and work tomorrow), about the only bright spot last night was the play of stud linebacker Lavonte David.
Dude was all over the field (again) and his play the last two weeks likely has even the great Derrick Brooks nodding his head in approval.
But after the games, and thoroughly spent and exhausted and dejected David would have nothing to do with any accolades.
"It isn't about me, it's about the team," David said. "I'd give all that up [personal successes] to get some victories. I wouldn't be dong that if it wasn't for my teammates. All that individual accolade stuff, don't mean [anything] to me. I'd give all that up for victories."
Now right there is what Joe calls a team guy. Dude is playiing at a beastly level not seen around here in years, and yet, he wants victories, not prizes and/or awards. He is sick of losing.
What more would you want from a linebacker?