Holding Dominik Accountable; Trusting Glazer?
October 25th, 2013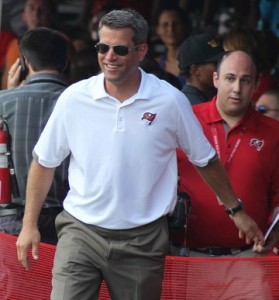 Tampa Bay Times columnist Tom Jones and beat writer Rick Stroud talked this morning about potentially firing rockstar general manager Mark Dominik and wondered aloud about whether they trust Team Glazer to hire a new Bucs head coach and football architect. (Here the debate via 620wdae.com audio below.)
Does Dominik get a failing grade for the Bucs' struggles in 2013? Quality groceries were purchased in conjunction with a hard-line coach that has questionable coaching and evaluations skills.
Joe gives Schiano an "F," but Joe can't give Dominik a failing grade. He's no honor roll man, but it's a much deeper debate when one micro-assesses Dominik's performance.