Encroaching On Raheem Morris Era
October 25th, 2013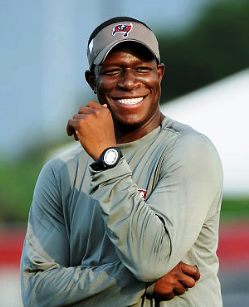 Nothing gets a Bucs fan to race to the liquor cabinet quicker than when someone drops the name "Raheem Morris."
The Raheem Morris era in Tampa Bay football was so dismal, Joe doesn't know where to start. His final weeks as Bucs coach will forever be seared into Bucs fans' memory banks, with no ability to purge. Morris' teams were simply chain-whipped and alley-beaten. What Sonny Corleone did to Carlo Rizzi paled in comparison to what NFL teams did to Morris' charges.
Well, the Custodian of Canton, eye-RAH! Kaufman of the Tampa Tribune has some sobering and frighting statistics. It seems the Bucs defense, led by Bucs commander Greg Schiano, is slipping into Raheem Morris territory, so Kaufman Twittered today.
@IKaufmanTBO: The Buc defense kept the team competitive in September, but those days are over, Opponents have scored 31 points in each of the last 3 games
If that isn't a death knell to a coach (Schiano), Joe doesn't know what is. If your defense is starting to look like Morris' defense in his final weeks — and we are still in October – gives Joe the shakes and makes him want to grab a bottle of Bushmills right now.