Frustration Beginning To Bubble
October 13th, 2013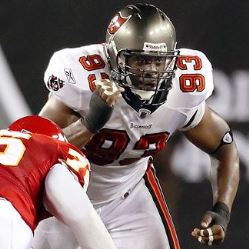 There are fewer guys who are as nice and thoughtful and accommodating as Bucs Pro Bowl defensive tackle Gerald McCoy.
Whether it be a loss or a win, a heartbreaker or a thrilling win (remember those?), GMC will share his thoughts on the game. But the frustration of winning but once in the past 11 games is finally beginning to seep to the surface. Even the genial GMC is fed up.
"Just get it done, man," GMC said. "It's way past all the other — there's no excuses. It is just time to get i tdone, simple as that. Everybody wants to talk about our offense, they gave us 20 points today. That is more than enough for what we've been alowing. We kind of let it go on D today."
GMC makes a few really good observations. It was on the defense today.
The Bucs, aside from one game, appeared to have one of the better defenses in the league. It was almost to the point of the old Bucs where Warren Sapp used to cry, "Just give us 17" to the offense. Sapp, Derrick Brooks, John Lynch, Ronde Barber, Simeon Rice and the rest would take care of matters.
That did not happen today. N'-bomb dropping Riley Cooper torched the Bucs for 120 yards and a touchdown — Riley Cooper!