Midseason Coaching Change Not So Easy
October 30th, 2013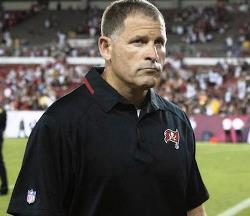 It is not just a hand-wringing issue for locals. So too it is a national puzzle. Just how long will Bucs commander Greg Schiano last?
Joe has written several times there is zero rationale for pulling the plug on the Greg Schiano regime before the end of the calendar year. What, (maybe) that helps win a couple meaningless games that fans will forget about before the draft is over with, blowing a chance at drafting Jake Matthews or this Mariota character from Oregon? Please! Get your priorities straight!
It seems Olive oil-lapping, popcorn-munching, coffee-slurping, fried-chicken-eating, oatmeal-loving, circle-jerking, beer-chugging, cricket-watching, scone-loathing, college football-naïve,baseball box score-reading Peter King, of Sports Illustrated and NBC Sports fame, has his priorities right. King, in his weekly appearance with the one and only Chris "Mad Dog" Russo on the channel that bears his name, Mad Dog Radio heard exclusively on SiriusXM Radio, explained terminating Schiano before the season is over is much more complex than simply waving goodbye and deactivating his keycard for One Buc Palace.
Chris "Mad Dog" Russo: Alright, Schiano, is he going to make the season?

Peter King: I am dubious about that Chris, but I said the other day on NBC that one of the problems for them to make a change — and I can say this categorically, the owners do not want to make an in-season change — but if they are going to make a change, here's the biggest problem: Butch Davis is kind of the assistant to the head coach. Dave Wannstedt is a special teams guy. Those guys obviously have had head coaching experience. Those are big Schiano guys. They were brought in by Schiano; they are kind of a team. So you fire Schiano and have one of those guys coach. I'm not sure the players would view that as any sort of fresh air.

Russo: So he might last, despite their getting booed off the field and getting things thrown at? You know, the problem with Schiano is, you can't act like Vince Lombardi and Bill Belichick without any rings.

King: You know, I compare Schiano now to Bill Belichick in his first few years in Cleveland, or maybe his first three years. Until you have the pelts on the wall — I mean there was a time when Bill Belichick was not Bill Belichick. I mean, he was a coach. A quiet coach who didn't curry any local favor in Cleveland and he didn't win enough and people were booing him a lot in Cleveland. They were down on him. And you know, he certainly lasted longer and had more success in Cleveland than Schiano has had in Tampa. All I am saying is it reminds me of that same situation because there was a time in Cleveland where people looked at Belichick and basically thought, "Hey, we don't like this guy and we don't think he will pull us out of this." Now, it was those three Super Bowls that have him bulletproof for life.
Many Bucs fans can't understand that Team Glazer has never made a coaching change midseason. It hasn't happened. Didn't happen with Sam Wyche; didn't happen with Father Dungy; didn't happen with Chucky; didn't happen with Raheem Morris.
The best thing the team can do is lose. (That doesn't mean Joe is cheering for losses and wants to bench starters.) If you cannot secure a playoff berth, then it is all about the draft. Finishing with a middling record is akin to going to a clothing option establishment where you can't touch the hired help. Then what the hell is the point of even going?