The Josh Freeman Cunundrum
September 15th, 2013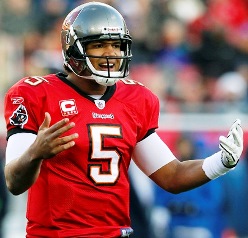 Joe can understand why Bucs fans are so volatile, both positively and negatively, to Bucs franchise quarterback Josh Freeman.
Because his play brings out the ire in us all.
Maybe not as bad as the Jets game, Freeman struggled today. At the time Mason Foster channeled James Harrison in the Immaculate Interception and scored an 85-yard pick six, along the very same sideline and soil that Harrison did in on one of the greatest plays in Super Bowl history, Freeman had but 81 yards passing.
And this was nearly three minutes into the fourth quarter. That is simply unacceptable.
But then, like magic, Freeman, seemingly when the team needed him the most, just like last week, drove the team into field goal territory to set up what could have been the winning field goal.
Unlike last week at the New Jersey Swamplands, Rian Lindell missed, setting up a too-short field for Drew Brees and, well, we all know the rest of the sad story.
Yes, Joe knows there will be Freemanites who will reach for excuses to defend Freeman. How many teams in playoff contention have to make excuses for their quarterback week after week, season after season?
Right now as we sit nearly midnight on the East Coast, playoff hopes for the Bucs are grim. Joe thinks it is the beginning of the end of the Josh Freeman era. It will end in December, barring a playoff berth.
Joe has heard just about every excuse for Freeman there is. If the Bucs lose, it's the defense, or his receivers, or his line, or his running backs, or the weather or his coaches or Mars is behind the moon, his supporters will say, and have said for years now.
How about just coming to grips with the fact Freeman just may not be all that? His inconsistency really is Mylanta-inducing.
Sadly, after today's loss, Freeman's mark vs. teams with a winning record dropped to a dismal 6-16.