Sharks Are Circling
September 24th, 2013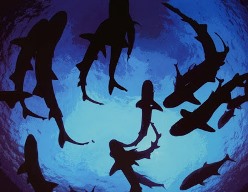 Wow, Bucs fans are teetering on the edge like Joe has never seen before.
Joe remembers there was a faction of fans fed up with Chucky's spinning his wheels. Joe knows there was a tar-and-feather crowd who couldn't wait to burn down Raheem Morris' favorite South Tampa bar, if that's what it took rid the franchise of him.
But Joe has never seen the current anger of Bucs fans and how quickly they have turned on Bucs commander Greg Schiano. Just a few short weeks ago, Bucs fans almost universally applauded his law-and-order approach, the New Schiano Order, and how he demanded players put out in practice or face a nasty tongue lashing.
Now? Wow.
Joe cannot count how many Twitterings he received in the past couple of days, since the Bucs offense laid an egg in New England, wanting Schiano gone now. In all caps no less.
How bad has it gotten? Well, likely the most revered man in the Tampa Bay area who sits behind a microphone, all around good guy, straight shooter and the voice of Tampa Bay, Tedd Webb of WFLA-AM 970, co-host of AM Tampa Bay, and no friend of Ron Reagan, Jr., took a rare venture to Twitter Sunday to unload on the crumbling Bucs, in particular, Bucs franchise quarterback Josh Freeman and commander Greg Schiano.
@TeddWebb1: If Schiano sticks with Josh, then Schiano is the problem!
Man, if Tedd Webb, on an all-news station whose listeners include impressionable casual football fans and plain hausfraus and yentas throughout the area — and more importantly, potential advertisers and folks with expendable income — has turned on you, things are bad and you are about toast.
Unless Freeman has a monumental turnaround, Joe simply cannot see him returning to the Bucs in 2014. With a fanbase that is so fed up with Freeman, rightly or wrongly, just how is the team expected to sell any tickets or more importantly, corporate sponsorships when Freeman is the face of the franchise?
And yes folks, a quarterback is always the face of the franchise.