Captains "Didn't Disagree"
September 25th, 2013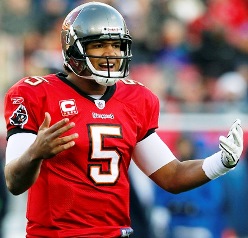 While many think the move to bench franchise quarterback Josh Freeman, who led the NFL in inaccuracy, for rookie third round pick Mike Glennon would be the equivalent of rolling a live grenade into the Bucs locker room, Rick Stroud of the Tampa Bay Times has an enlightening article that suggests that is not the case at all.
In fact, Stroud writes, the Bucs' captains are on board with the move.
The idea behind making the change to Glennon now, rather than waiting until after the Cardinals game, is to give the young quarterback a chance to play Sunday and then have two weeks to review his mistakes and make corrections.

The Bucs team captains were informed of the decision Wednesday and many of them saw it coming and didn't disagree with it. The locker room is not expected to be divided over the decision.

While Freeman played better in Sunday's 23-3 loss to the Patriots and was victimized by dropped passes, the Bucs did not feel he was going to ever be consistent under Schiano.
The captains didn't disagree? This after Freeman was not voted as a team captain earlier?
A guy walking around with a white cane can see what is going on here. The team, as in the players, had grown weary of Freeman's All-Pro one day; Bobby Douglass the next-style of quarterbacking, this after four years in the NFL.
So the Bucs finally came to the conclusion that Freeman may not ever be consistent? What would ever lead them to this thought?
Freeman has never, ever been a consistent quarterback. He would tease you one day where he looked like the second coming of Ben Roethlisberger, the next day you wanted to drop $10k on a barrel of Jack Daniels he was so miserable.