Preseason Freakout
August 18th, 2013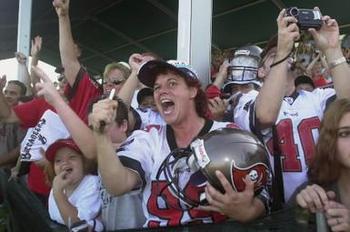 It's easy to tell fans to calm down and not take preseason games so seriously. But given that the NFL charges full price for preseason games after depriving fans of football for six months, it feels almost unfair to expect the common folk and media to shrug off what they see in August.
Edgy Brandenton Herald columnist Alan Dell examined what's real and what's not in the Bucs' preseason, as part of his latest effort today.
You can scream it's only preseason and look who didn't play, and you're right.

But the Bucs defense was miserable, and Brady kept his offense vanilla with these teams facing each other early in the regular season.

It's not time to hang anyone in effigy, and roses could bloom Saturday in Miami for Tampa Bay's third preseason game, which coaches say is the only one that matters.

But some Bucs are running out of excuses.

Linebacker Mason Foster continues to look like one of the original three blind mice on pass defense. Ahmad Black lost his composure with a 15-yard unsportsmanlike penalty, which makes you wonder if his past marijuana issue indicates a problem. Tight end Luke Stocker looked lost and confused, and Da'Quan Bowers is proving he is just a situational player, which doesn't help a questionable defensive line.

This was not toes-on-the-line, Schiano-discipline-ripe football. It was chaos, and the first-team offense does not escape blame because Pro Bowl guards Carl Nicks and Davin Joseph did not play. They weren't around for most of last season.
Click through above to read the whole column.
Look, Joe gets the preseason freakout. Joe is a half a notch down on the Bucs versus where Joe's mindset was in mid-July. However, a lot of that is based on the how the Bucs have practiced and how positional issues have materialized, not the tiny sampling seen in preseason — against two powerhouse opponents.
Breathe easy, folks.