Back To Work For Darrelle Revis
August 19th, 2013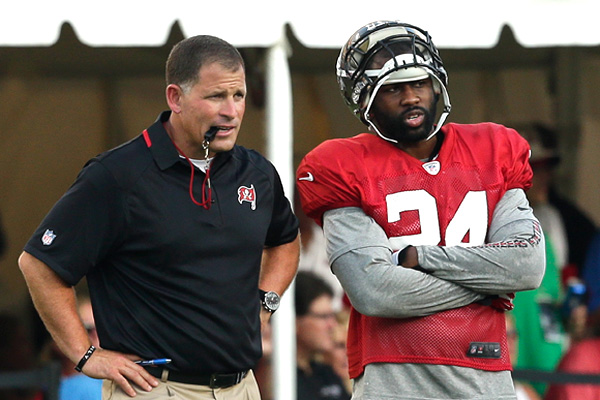 As you prepare for another ugly Monday morning trudging to work, here's a bit of bright news to help you forget the pet stain that was the Bucs loss to the Pats in both teams' second preseason game.
It's also back to work for Bucs star cornerback Darrelle Revis. Bucs commander Greg Schiano told Albert Breer of NFL.com that Revis is expected to participate in normal team drills beginning this morning at One Buc Palace.
"We'll get him into the general practice population now, and get him doing some team stuff, just get him playing a little bit more," Schiano said. "He did a little 7-on-7 last week in the red area, we'll give him some more, and just take it, add a little bit, see how he is the next day and add a little bit more."

Schiano added: "If he just keeps going, says, 'Yeah, I wanna do this,' then we won't have to think about it as much. And if he doesn't play, that doesn't mean he isn't feeling good. You just sit back and, like I said from the beginning, I don't need to see him play in the preseason. I know what he's capable of. He just needs to get to where he's confident and feels like, 'I can go out and play.' "
Want more good news, Bucs fans? Schiano told Breer he has yet to rule out Revis playing against the Dolphins in WhateverTheHellNameOfThatStadiumIs in South Florida on Saturday.
So it seems the training wheels are about to come off. The bubblewrap is being removed. Joe knows Revis has been itching badly to hit someone. It appears that's about to happen.