Johnthan Banks Up To Task
August 10th, 2013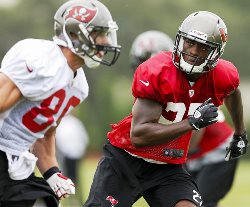 Of course, one of the most watched Bucs newcomers this season is cornerback Johnthan Banks. The rookie out of Mississippi State isn't the object of attention just because he's a rookie. No, the second-round pick likely will be starting and playing opposite of star cornerback Darrelle Revis.
Any corner playing on the other side of the field from Revis is going to be targeted. Banks' inexperience, naturally, has Bucs fans wondering if he is up to the job.
In practice, he has been. But as wide receiver Chris Owusu, the star of training camp, showed Thursday night, the game is different under the lights with an opponent with a different colored-jersey.
In his day-after press conference, Schiano gave Banks a thumps-up in his debut as an NFL player.
"Well what I felt [Thursday] showed out on tape," Schiano said. "It wasn't too big for him, he challenged guys. You could see guys that are a little bit tentative out there at the corner, they're going to give extra big cushion, they're going to play with their eyes. The one thing that Johnthan keeps getting better at is he's disciplining his eyes and that's the hardest thing to do as a defensive back, is put your eyes where they're supposed to be. If they're supposed to be on the quarterback have them there, if they're supposed to be on your man have them there and if you're supposed to take them off your man at a certain time and put them on the quarterback. That sounds easy [but] it's not when the guy is bearing down on you and there's a crowd full of people waiting to see if you get beat."
This is a good, first big step for Banks. But Joe is pretty sure Schiano will admit Banks isn't a finished product. He must continue to improve.
It's just a matter of weeks before Banks will be more popular for opposing quarterbacks than free beer and loose, forward women.