Former Bucs Have Fantasy Nights
August 10th, 2013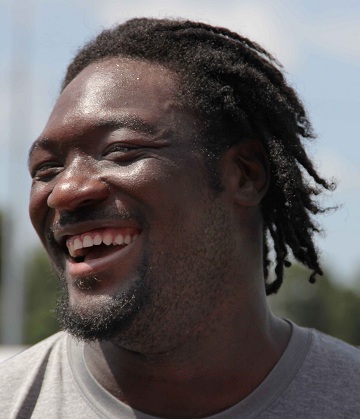 Regular readers here know Joe wasn't big on the Bucs trading LeGarrette Blount for the NFL equivalent of a Subway Footlong and a bag of chips. That wasn't because Blount deserved to take carries away from Doug Martin, hardly, but because Blount is a very talented football player and was a valuable backup earning peanuts.
Blount was dealt to New England, where he introduced himself to Patriots fans last night with a two-touchdown, 101-yard performance on 11 carries, including a highlight-reel run that you don't see every day [video here]. (No. Joe's not stalking Blount, merely keeping tabs on early Bucs regular-season opponents.)
Down in New Orleans, former Buccaneer Man and current Bucs basher Preston Parker caught the Saints' only two touchdowns of the night, as he looks to rebound from being cut by Schiano last September.
In the Jets-Lions game in Detroit, DJ Toes On The Line caught two balls for the Jets, including a 24-yarder from Mark Sanchez, something the Bucs likely will see tried quite often on opening day in Gotham.