Furnace Still Blazing Under Da'Quan Bowers
August 14th, 2013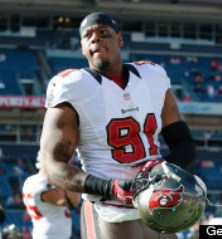 There's not much more Joe can add to the Greg Schiano quotes on Da'Quan Bowers (see below) following Bucs practice in New England today, courtesy of the Bucs' media relations team.
Schiano is demanding production. The heat is on, Mr. Bowers.
(On who will start on the defensive line)

"There are no starting jobs right now. Guys are competing on the defensive front. You've got Gerald mcCoy, that's a guy who is definitely starting. If AC [defensive end Adrian Claybrn] can come back healthy, then he's definitely starting. After that it's wide open."

(On Da'Quan Bowers getting increased playing time)

"Yeah, as soon as we know that he can. He needs to play situational football, he needs to play a bunch of plays in a row, but not at the cost of [production].  So, it's a double-edged sword that we're trying to make sure we are on the right edge of."

(On if Bowers will play in the game against the Patriots)

"Yeah."

(On how the team is evaluating Bowers)

"Everything is being evaluated. I told you what I wanted and what I expected but I'm not going to make it happen if it isn't there. It's got to be there. We'll see, he's got an opportunity Friday night and we've got another game next week, so we'll just keep playing it out and see how it goes."
You can hear Schiano talk about this and more in the WDAE-AM 620 audio below, via the Buccaneers Radio Network.