Welcome To The NFL
July 19th, 2013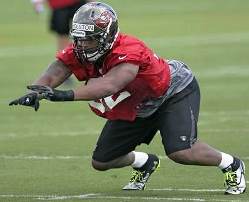 On the Bucs' defense, the easiest if not biggest question mark is, "Where is the pass rush coming from?"
Bucs rock star general manager Mark Dominik loaded up (again) on pass rushing specialists in the 2013draft, including William Gholston. Normally a defensive end, his massive size (6-6, 281) also allows him to play inside.
Gholston, speaking yesterday after the first day of Bucs' rookie school, is geeked for training camp.
"I am expecting to be welcomed into the NFL. There are some pretty good offensive linemen here. I will play as hard as I play. I feel like if you compete against a high level in practice, it only helps you in the game.

"I woke up dreaming, that's what I told one of the coaches this morning. Because this is a dream. I am more comfortable with the program now and I now know what is being asked of me now since we did the rookie program and everything like that. Coaches expect me to play hard."
This is an interesting point Joe didn't ponder much. How cool is it that the likes of Gholston and Steven Means will have to go up against one of the top offensive lines in the NFL day in and day out in training camp? That can only be a good thing.
Joe knows Donald Penn raves about how Adrian Clayborn brought out the best of him in practice. So too should Davin Joseph, Carl Nicks and Penn do for the rookie pass rushing specialists.