Eric Wright Traded To 49ers
July 19th, 2013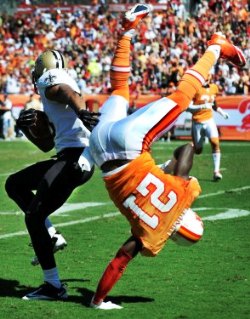 The Buccaneers ridded themselves of malcontent cornerback Eric Wright today by trading him to the San Francisco 49ers for a conditional draft pick today, per the Bucs' official Twitter feed.
@TBBuccaneers: Breaking News: The Bucs have traded CB Eric Wright to San Francisco for a conditional 2014 draft pick.
The timing of this is very interesting to Joe. Just yesterday, Joe was speaking with a Bucs official and when asked about Eric Wright and if he has changed his attitude, said official just looked down and shook his head.
This move all but signals that second-round pick Johnthan Banks will start. Joe knows that the Bucs are really pleased with the progress Leonard Johnson and Danny Gorrer have made and that Rashaan Melvin, a rookie corner out of Northern Illinois, has been turning coaches' heads.
Apparently the talent Banks has shown along with the progress of Johnson, Gorrer and Melvin have displayed, along with the attitude Wright wore on his sleeve, made the troubled Bucs corner expendable.