Change Is Norm For Johnthan Banks
July 19th, 2013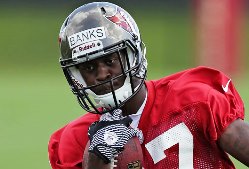 One of the obstacles for rookies trying to jump off the bus running into the NFL is change. There's a new town (far more often than not) to move to, new teammates become familiar with and most importantly, new coaches and likely a new scheme to learn.
Adapting to new coaches shouldn't be much of a concern with Bucs rookie cornerback Johnthan Banks. While at Mississippi State, Banks had four different defensive coordinators. Banks told Joe yesterday after the first day of Bucs rookie school that change isn't much of a bother to him.
"I can handle it. I am a grown man. Change is change. You just have to be able to handle it. I am a corner. Whatever they ask me to do, that's what I will be willing to do no matter what it is.

"I think it is more mental than physical in his camp. [Mississippi State] Coach [Dan] Mullen is very similar in a lot of ways. Both are workaholics. I don't think [training camp] will be [anything] I cannot handle."
Banks has an interesting attitude. He's sort of a quiet buy, but with loads of confidence. It's not really cockiness, but confidence.
Joe knows many NFL types point to coaching changes as such a disruption that it takes many players a couple of years to fully ingrain themselves into a new scheme.
The fact that Banks has been able to do this four times in four years, when he was a kid, not an adult, and still excel speaks volumes to Joe that he is both a versatile and an intelligent player.