"Take A Shot Right Now"
July 4th, 2013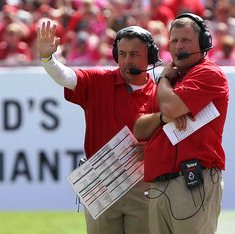 During the fancy video introduction of Greg Schiano's appearance on NFL Network this week, a cut was played of Schiano "miked up" against the Chiefs, a scene in which he patrols the sideline and gives a firm order to Mike Sullivan.
"We got the wind at our backs for this play, Sully. Take a shot right now." Schiano said into his headset.
Joe had seen the cut many months ago, but it really stood out this time. Essentially, Schiano was taking a very heavy hand with the offense, especially for a defensive head coach who takes pride in his delegation skills.
The next cut shown on NFL Network was of a Bucs touchdown and Schiano screaming into his headset and pumping his fist, "What I'm talking about Sully! Thattaway!"
Now it's unclear whether that TD was the "shot" Schiano demanded or not. Joe's not going to assume the magic of TV editing is accurate.
Regardless, it was an interesting glimpse into how the head coach rolls on gameday. As Joe's written many times, Schiano's coaching prowess is a huge X-factor for 2013, specifically his ability to outcoach division foes Mike Smith and Sean Payton.