Hating The Eagles
July 4th, 2013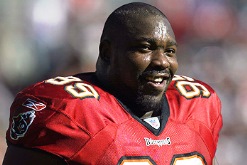 Former Bucs great, and in a few weeks a Pro Football Hall of Famer, Warren Sapp, generally despised anyone who wore a different colored jersey than the red and pewter (or, creamsicle). If you lined up against Sapp, you were a mortal enemy and it did not matter what team you played on.
But for a brief period of time, Sapp did have a most loathed team, a squad that fueled a special kind of hatred. And that was a certain green-clad team from the City of Brotherly Love.
"For three or four years, it was the Eagles," Sapp told Joe and other media. "I mean, you are losing wild card, wild card. We were supposed to play them [the Sunday after] 9/11 and they moved that game. I wanted to crucify their [arse]. They moved that game to the end of the year and now it didn't mean [anything] and they still beat us. Then we have to go up there to play them again in the playoffs and they beat us.

"For a while, it was the Eagles. But for the longest time, Tony [Dungy] put us on the path of chasing the Green Bay Packers because we had a three-time MVP [Brett Favre] in our own division. Everything kind of switched when they switched divisions. But you know, it really didn't matter. Home, road, whatever. Let's go."
If anyone watches the Buccaneers episode of "America's Game," one can almost feel the rage in Sapp when he talked about constantly losing to the Eagles in the playoffs, until that magical Sunday where Ronde Barber is still running in Joe's head, down the sideline all alone, sending the Bucs to their only Super Bowl appearance.