Looming 110-Yard Sprints Make Schiano Smile
July 18th, 2013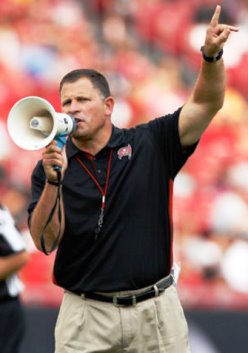 The leader of the New Schiano Order couldn't hold back his grin on the podium at One Buc Palace this afternoon. Perhaps Greg Schiano had no interest in keeping a straight face.
Schiano was asked whether his famed conditioning test for each Bucccaneer prior to training camp was still on the docket for next week. Schiano grinned and said the "16 110s, yeah, the fellas are excited about it."
Of course, Schiano was referring to the famous demand on each player to run 110-yard sprints — 16 of them — when they report to training camp.
Last season, a good handful of players failed, but Schiano said he was OK with that because everyone was still adjusting to a new regime. But Schiano was clear he expects a 100 percent success rate this year.
Schiano quipped today that summer is over. Joe suspects Bucs players won't believe that line when they're running in the humidity next week.