Johnthan Banks Ready To Be Tested
July 18th, 2013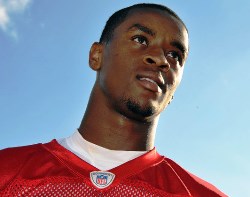 As Pat Kirwan says — the co-host and sage of "Movin' the Chains," heard exclusively on SiriusXM NFL Radio — whoever is going to play opposite of Bucs cornerback Robin Darrelle Revis is going to be targeted early and often by the likes of Drew Brees, Matty Ice and yes, even Cam Newton.
After the opening today of what Bucs coach Greg Schiano calls, "Rookie School," Johnthan Banks talked about how if he wins the starting corner gig opposite of Revis, then he too expects to be in the forefront of opposing quarterback's minds.
"I haven't thought about it but just about anybody playing on the other side of Revis is going to get targeted a lot," Banks said. "We are all human. We have to be ready for the job. It's what we do: play football. It's why [the Bucs] drafted me, to cover people. If it happens, it happens. I just have to be prepared."
In other words, Banks (not in a cocky way, but a confident way) was saying, "Bring it on."
Bucs rock star general manager Mark Dominik didn't draft Banks to be a wallflower and just a special teams guy. And as one of Joe's commenters noted earlier today, every quarterback picks on the weakest link of a defense's backfield.