Paying Homage To Earnest Graham
July 18th, 2013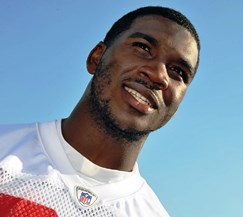 When the Bucs drafted Mike James this spring, it didn't seem like an earth-shattering move. After all, just how many times could he touch the ball in a game playing behind star Doug Martin?
After a few OTAs and a minicamp, James' versatility shone through. So much so that the Hurricanes product and Polk County native began to be compared with former Bucs everyman Earnest Graham.
Learning this, it both humbled and motivated James.
"I heard through the grapevine [the comparison to Earnest Graham] and I have a great deal of respect for someone like him," James said. "He is a great guy. It is an honor to have my name compared to him. He's done so much for this community and this team. He's a guy I looked up to as a kid. I went to so many of his games here. It is an honor. I hope I can follow in his footsteps.

"As a second string running back, there are opportunities everywhere. There are opportunities on special teams. I am just trying to take advantage of the opportunities."
Rabid Bucs fans know how high praise that is for James to be brought up in the same breath as Graham, a true team player. And the comparison came from rockstar general manager Mark Dominik. There wasn't a thing Graham wouldn't do to help a team win: special teams, fullback, running back, whatever it took. May be the ultimate Bucs team player.
If James can be half the player Graham turned out to be, James will become an absolute steal of a sixth-round pick.