Like Fans, Schiano Expects Improvement
July 5th, 2013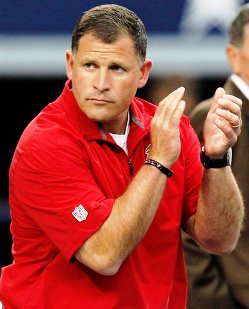 Joe reads the comments on this very corner of the Interwebs, hears the callers on sports talk radio, talks to the fans at various watering holes, etc.
Bucs fans are so anxious for a postseason berth this fall, they can taste it.
Well, so does Bucs coach Greg Schiano. In a podcast on NFL.com, Schiano strongly implied he expects the team to be better this season and he's hungry to satisfy Bucs fans' appetites for the playoffs.
"You know, I don't really put a time limit on it," Schiano said about turning the once hapless Bucs around. "It's a win-now league. So, we were trying to win yesterday. I think we did some things our first offseason [winter of 2012], some acquisitions that really helped. And without a doubt, we did it again this year. So with Mark Dominik our GM and everybody involved, I think there is a commitment to winning from the top down, from the Glazer family down and that's the most important thing. That is what I sensed when I sat down to interview with them. They are very serious about winning and winning championships. That's why I thought it was a great situation."
Yes, Joe too believe the Bucs should be better this year. The team very well may have gone from one of the worst secondaries in the NFL to the best. They have a running attack, a powerful offensive line, dynamic receivers. Yes, this team should be better.
Playoffs? Joe's not going there yet. The only way the Bucs could guarantee a playoff berth is winning the division and Joe can't go there yet.
The NFC is so damned stocked this year with top teams, it wouldn't shock Joe one bit if a team won 11 games and missed out on the playoffs  (Joe is not saying that will happen, but could happen). The NFC is the best Joe has seen since Bill Walsh, Joe Gibbs, Bill Parcells and Mike Ditka roamed the sidelines.
The Bucs very well could have a tremendous season, winning 10 games, and be watching the playoffs at home. That's how good the NFC should be this year.