"Jaws" Not Sold On Josh Freeman
July 5th, 2013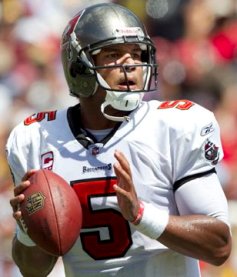 Few people have both the access and the knowledge to break down countless hours of NFL film to determine players' pros and cons.
Greg Cosell of NFL Films comes to mind. He's en elite football mind, but if one was to nitpick, one could make the empty argument that Cosell never played in the NFL. Well, neither did dozens if not hundreds of NFL coaches. Bill Belicheat never played in the NFL, either, nor did Bill Walsh, Joe Gibbs, Bill Parcells or Chucky, to name a few.
This cannot be said about former Eagles quarterback Ron Jaworski.
Better known as "Jaws" on BSPN, he too is an employee of NFL Films and he brings his considerable NFL experience as a signal-caller to breaking down quarterbacks.
The four-letter is slowly releasing Jaws' quarterback rankings each day and, to be polite, Jaws is not enamored with Bucs quarterback Josh Freeman. He has Freeman, who he referred to as "an enigma," ranked No. 21, documents Marc Sessler of NFL.com.
During a midseason stretch that saw the Buccaneers go 5-1 last season, "Freeman played with a swagger," Jaws said. "He was always willing to pull the trigger, attacking all levels of the defense. What I really love was the anticipation."

Then Freeman tumbled off a cliff. "He was erratic with his accuracy. He had many communication issues with his receivers," Jaws said.

Jaworski pointed out a disturbing figure: Only Mark Sanchez of the New York Jets had a lower passer rating when facing pressure. That's when we saw Freeman mightily struggle at reading coverages and making split-second decisions.
Mark Sanchez?!
This is exactly the problem Joe has with Freeman, not counting his 6-15 mark against teams with a winning record (one of those wins came against a team that already locked up home field advantage for the playoffs). The guy simply wilts under pressure.
Joe points to the Broncos game last year. The Bucs' defense may have played its best half of football, all but bottling up Peyton Manning in the first two quarters with the Bucs holding a narrow 10-7 halftime lead. If the Broncos were ripe for an upset, it was this game. But given a chance by the defense for Freeman to lead the Bucs to a thrilling, signature win, Freeman turned impotent against the Broncos pass rush, thus enabling the Broncos to rally for a win.
Yeah, yeah, yeah, that's what defensive pressure is supposed to do to quarterbacks. The bad ones. Ben Roethlisberger seems to thrive under heat. Same with Joe Flacco. Pressure doesn't seem to rattle Aaron Rodgers too much. Joe could go on.
During a run at a Super Bowl, a quarterback naturally is going to be under heat from a defense. The elite quarterbacks get past that and find ways to win, create plays.
Thus far, Freeman rarely shows that ability against good teams.
Now to be fair, Jaws was knocking Freeman for lack of communication. Joe vividly remembers after a weekday practice last season, receiver Mike WIlliams, as nice a guy as there is, went off on how he and his fellow receivers were not "on the same page" as Freeman and much of the criticism lodged at Freeman should instead be dropped on the receivers; it takes two to communicate and it isn't always the quarterback's fault.
Freeman can make the plays. Joe has seen it. There are two plays that jump out at Joe, both elite plays. One was a touchdown pass against the stinking Panthers on the road, and a second on the road against the Dixie Chicks where Freeman absolutely threaded a needle, throwing a blazing heat-seeking- missile-like pass for a score.
Those are the types of passes Freeman needs to be more consistent with. They were both works of beauty, both coming on the road, both under pressure, both against division foes, both in close games. If Freeman can throw more passes like those two, and not like this, with another year under his belt in Mike Sullivan's offense, there is no reason to believe Freeman cannot be a better quarterback, and perhaps an elite quarterback.