"It Is All About Mike Glennon"
July 18th, 2013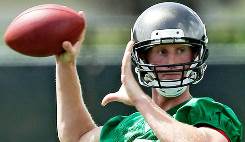 Look, everyone knows a good chuck of the Bucs' success this year (or failure) rides on the shoulders of No. 5, Josh Freeman. The Bucs quarterback is at the crossroads of his career.
If he puts together a good season, he will return to the Bucs in 2014, likely a much, much, wealthier man and the Bucs will have a winning record and might be playoff tested.
While just about every football analyst points to Freeman as the linchpin to the season, Gregg Rosenthal sees the Bucs' season through a different prism. The head honcho of NFL.com's highly underrated "Around the League" blog, Rosenthal believes the Bucs' fortunes do not center around Freeman but backup quarterback Mike Glennon, as he told his colleague Dan Hanzus in a recent NFL.com podcast.
"I think it is all about Mike Glennon. This is a rookie quarterback that has a chance to play this year. And I don't mean Week 1. But I mean Week 12 if the Bucs are sitting there at 5-7 or maybe even Week 8 if they are at 3-5, something like that," Rosenthal said. "I don't think the preseason matters for many people, but it matters for rookie quarterbacks because that is all the coaches are going to see of Mike Glennon. So I am looking to see how he does in the preseason.

"I can't decide if the Bucs are the cool team on the rise or the cool tam on the rise that everybody likes that will, well, just stink."
Joe knows there are regular readers who are riding shotgun on the Mike Glennon bandwagon, but there simply is not enough alcohol for Joe to guzzle to connect dots that put Glennon starting at quarterback this season. That wouldn't be for the Bucs in 2013.
If, as Rosenthal hinted, Glennon is starting, that means either Freeman is hurt or he is crapping the bed so awfully that Bucs coach Greg Schiano has benched him. There simply is no way — this season — that Glennon provides the Bucs with a better chance to win games than Freeman.
Is Glennon is starting, then it's time to begin researching the draft.