Target On Eric Wright's Back
July 18th, 2013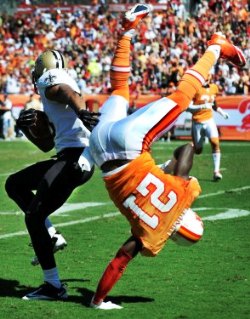 Since the end of last season, former Bucs scout, Jets linebackers coach (under Monte Kiffin) and front office man Pat Kirwan has been banging the drum for Bucs rock star general manager Mark Dominik to sign free agent sackmeister John Abraham.
But it isn't just the Bucs' pass rush, largely unproven Kirwan believes, that has Kirwan suspicious.
He applauds Dominik for upgrading the secondary with Batman and Robin, but Kirwan is worried because the Bucs have, essentially, two starting strong safeties with Mark Barron and Batman Dashon Goldson, and the presence of Robin Darrelle Revis means one guy in the defensive backfield will be wearing a bulls-eye for opposing quarterbacks.
That would be cornerback Eric Wright, so Kirwan explained on "Movin' the Chains," the NFL-only talk show he co-hosts with Tim Ryan heard exclusively on SiriusXM NFL Radio.
"You know that Brees and Matt Ryan are going to throw the ball 35-40 times a game if they feel like it. And how are you going to stop that? They don't have to throw to Darrelle Revis. They don't have to go anywhere near him. There is plenty of opportunity to go to the other guys on that team.

"Eric Wright? They are going to work him over. He better be able to respond because they are coming that way. A lot."
Joe would include rookie corner Johnthan Banks in that group as well. Joe sees where Kirwan is coming from; Whoever plays opposite of Revis — Wright or Banks — NFL quarterbacks, especially Matty Ice and Brees, are going to go after him time and time again until Banks/Wright can prove they can stop the pass.
Unless Revis is not 100 percent recovered from his knee surgery, no quarterback in his right mind will test Revis more than once or twice a game.
In other words, Wright looks to be a busy man this fall.