Weakness Stronger, Strength Weaker
June 15th, 2013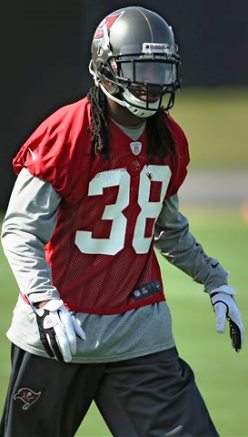 Joe sometimes chuckles when he reads a Bucs fan — or any NFL fan — demand "love" for his team. Joe really has no idea what that means. Does "love" mean "attention?" Or does "love" mean "lying" and just saying good things about a team so said fan can rest easy at night with their arms wrapped warmly around their teddy bear?
A Bucs fan seeking comfort wants to know why [media source unknown] is not fornicating over the Bucs in this NFC South chat.
EastEndBoy (DC)

Hi Pat – I know it's early but why aren't the Bucs getting more love in preseason analysis? Looking at what they did – take their weakest part (secondary) from worst to near first – versus what other teams did to their weakest parts, shouldn't the Bucs be viewed more highly – like a playoff team?

Pat Yasinskas

I agree with you. They fixed their weakest area. And they're good in a lot of other areas. I see them as a team with a shot at the playoffs.
Oh, there's no question the Bucs should have a shot at the playoffs, as difficult as it may be in the top-heavy NFC. That doesn't mean the Bucs are without question marks that give Joe pause, as he told his good friend "The Big Dog," Steve Duemig of WDAE-AM Tuesday.
Yes, the Bucs, on paper, look to have gone from worst-to-first in the secondary, horrific to strong. But Joe actually thinks the strength of the team in 2012, the front-seven on defense, may be weaker.
Yes, there's a reason leading sacker Michael Bennett and solid tackle Roy Miller were allowed to walk away for peanuts. They are damaged goods. But are their replacements better?
Da'Quan Bowers has yet to play a full season. Akeem Spence, who Bucs coaches admire, is still a rookie. Can Gerald McCoy stay healthy for only his second-year in his four-year career? Can Adrian Clayborn bounce back from knee surgery?
Also, it remains uncertain who will replace Quincy Black at strongside linebacker.
Yes, yes, yes, Joe understands many believe that position doesn't matter much. Funny, Joe never heard that excuse when Black was stinking up the league prior to being coached up last season.