Surprise!
June 14th, 2013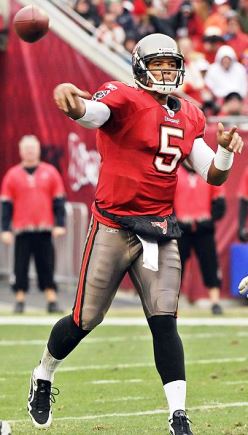 The good folks at NFL.com who run the blog "Around the League" gathered recently to discuss all things NFL.
The troika, head honcho Gregg Rosenthal, Dan Hanzus and Marc Sessler, hammered out their surprise teams of 2013. Sessler chose the Bucs to play meaningful January games for the first time since 2007.
The Bucs exited the Raheem Morris era drenched in chaos, but Schiano arrived with a plan. Tampa's coaching staff and front office are in sync, and general manager Mark Dominik isn't afraid to swing for the fences. The Revis trade made it clear: The Bucs are going for the throat.
Sessler admits that one cannot buy the premise unless one believes Josh Freeman can lead the team to the playoffs. If you are a Freeman detractor, Sessler writes, then it is difficult to put the pieces of the puzzle together for a Bucs postseason berth.
If the Bucs make it to the playoffs in a very top-heavy NFC, probably the best the NFC has been since Bill Walsh, Joe Gibbs, Bill Parcells and Mike Ditka prowled the sidelines, Joe would not be shocked but pleasantly surprised.
And Joe likes surprises.