Benn'd Around Architect Talks Adaptability
June 15th, 2013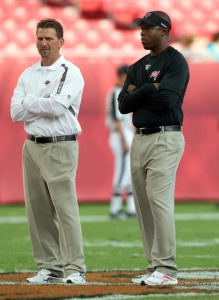 Joe has little respect for the football mind of Greg Olson.
Any guy that would repeatedly inflict the famously heinous Benn'd Around play on Bucs fans because he couldn't figure out how else to get Arrellious Benn involved in the offense is a flawed football thinker.
One of the absolute lowest points of Joe's Bucs fandom was Olson calling the damn Benn'd Around on 3rd-and-2 at the Panthers' 17 yard line late in the 2011 season. It's damn rare in the NFL when a 12 yard loss surprises nobody in the building. But that was one of those times.
Olson is the Raiders' new offensive coordinator, a baffling fact made only less baffling by Mike Shula now calling plays for the Panthers.
In a recent interview with The Oakland Tribune, Olson busted out the following: "I've been exposed to a number of different systems and if there's one thing I've learned, it's you'd better adapt to the players you have on your team."
Hmm, Joe wonders if Olson learned about adaptability before or after the Benn'd around and his leading of the NFL's most predictable offense in 2011.
Olson went on to talk about how he's learned from greats and how Jon Gruden (of all people) was his chief mentor.
Q: Seeking player input, selling players on the system, was always a big thing with Gruden . . .
Olson: I would consider Jon probably my biggest influence in football because of his passion, his passion as a coach, his preparation, and his presentation, his presentation to the players is what you're talking about, how to present it to him. He talked about that, 'let's find out what these guys can do and when you get in that position, Greg, make sure you've identified who are the guys you've got to get the ball to and what ways creatively can you do that.'
Ugh, Joe's already getting re-steamed at Olson typing this up — and at Gruden for not finding a way to get Joey Galloway and Antonio Bryant on the field at the same time in 2008.
Joe's grateful Mike Sullivan is in the building.