Wannstedt Says Michael Smith Is In The Mix
June 11th, 2013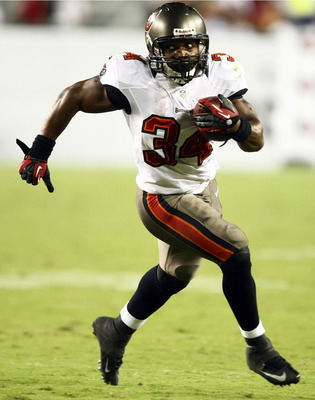 The Bucs' opening day kick returner last season, running back Michael Smith, who captained the inactive list for the remainder of the 2013 season, is back in the mix at kick returner.
New Bucs special teams coach Dave Wannstedt reinforced yesterday that the punt returner and kick returner positions are "obviously wide open," and he named new free agent wider receiver Eric Page, along with WRs Chris Owusu and David Douglas, as among those battling, and Wannstedt called out Smith, "as far as the kick return stuff."
What's a bit scary is that those four guys have seven games of NFL experienced combined — five belong to Owusu, who has yet to field a return in the NFL.
Just based on how the roster might shake out, Joe's not liking Smith's chances. It's all but a sure thing that Tiquan Underwood and Kevin Ogletree will score the No. 3 and No. 4 receiver positions, which means the New Schiano Order wants that No. 5 receiver to be able to be a returner.
Joe also learned from running backs coach Ernest Byner yesterday that he's impressed with the versatility of Erik Lorig and newcomer running back Brian Leonard. That can't bode will for Smith in the numbers game.