Jeff Hafley "Excited" About Revis Reunion
June 11th, 2013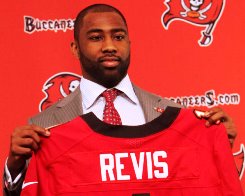 Early in Bucs safeties coach Jeff Hafley's career, he got a shot to hit the big time when Dave Wannstedt tabbed him for the secondaries coach at Pitt.
When Hafley showed up on campus there was a certain junior already making his mark on the team, a cornerback. Perhaps you heard of him? He goes by the name of Darrelle Revis.
So now Revis and his old position coach meet again, this time with the Bucs. Sure, Hafley will concentrate on safeties, but that doesn't mean he won't work with the corners now and again (Bucs coach Greg Schiano hates to pigeonhole assistants with titles).
Back when Hafley first met Revis, he knew right away Revis was going to be one special player in the NFL, so he told Joe yesterday at the Bucs assistant coaches media day.
"There was no doubt in my mind," Revis would be great, Hafley said. "I had never been around a player at that time in my life that worked this hard, practiced this hard, competed this hard. He's just a special person and I was a young coach and he was a junior in college. It was awesome to be around then and it will be awesome to be around now."
Hafley is like the P.J Fleck of the Bucs defensive coaches. Fleck, now the head coach at Western Michigan, was the Bucs wide receivers coach last year, a young guy, a fiery guy, a guy who is a Type-A personality. Hafley is sort of like that.
So when Joe first brought up that Revis would return to the defensive backfield he coaches, Hafley looked like he wanted to race out to the practice fields and try to catch passes against Revis.
"It's awesome!" Hafley said about his reunion of sorts with Revis. "I can't explain it in words to see him here and to see that look in his eye and to have him be a part of this program. It is unexplainable to put in words how happy I am to have him back here."
Maybe not quite as "unexplainable" as it is to some Bucs fans, hungry for a playoff win after a decade-long drought.