Gabe Carimi Will Fight For Roster Spot
June 11th, 2013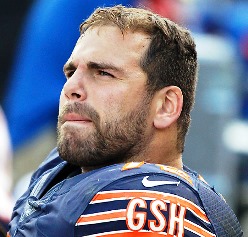 While news of the Bucs grabbing former Bears 2011 first-round pick Gabe Carimi for a paltry sixth-round pick was met with virtual glee within the walls of One Buc Palace Monday, that was not the case among national pundits.
Take Pat Kirwan and Tim Ryan, co-hosts of "Movin' the Chains," heard exclusively on SiriusXM NFL Radio, Kirwan, a former Bucs scout and Jets front office man, and Ryan, a former Bears defensive tackle, are not impressed with Carimi, a right tackle/right guard, in any way.
In fact, the duo had doubts Carimi will make the Bucs' final roster cut of 53 come September.
Tim Ryan: When his technique breaks down he will break down physically. In his mind, he anticipated and projected he would be fine [coming off a knee injury his rookie year]. That certainly wasn't the case. He will be fighting for a roster spot with the Buccaneers.

Pat Kirwan: He sure will be. Again this is the old – I am sure there are other teams, specifically Tampa Bay – that had a first-round grade on him coming out. They get the opportunity to take on a guy for a sixth-round pick, that's not a problem for the. And they have the cap space. And they probably haven't spent any money on him yet and they could probably release him at the end of camp if they want to and not be in the hole for anything. So, I get it. I know why they would do it. But there is a lesson to be learned here. He is not the first lineman to bounce around here. Can he beat out Demar Dotson?

Ryan: No.

Kirwan: No. Can he beat out…

Ryan: He can't beat out anybody on that line.

Kirwan: Where is he as a swing player? Do you see him as an inside swing guy?

Ryan: Maybe that's where his value is. I think he played better at guard but he has the ability to play the core positions.

Kirwan: I can see him making this team if he comes in there full of fire. If not, um, no harm no foul. You lose a sixth round pick. But to take a long summer peek at a guy, it's probably worth it.
Like Kirwan said, Joe believes this is a no harm/no foul type of move by Bucs rock star general manager Mark Dominik.
The elephant in the room here that neither Kirwan nor Ryan factored in Carimi's new position coach happens to be Bob Bostad, the very same guy who developed Carimi into an Outland Trophy winner and a first-round pick.
If anyone can resuscitate Carimi's football life, Joe believes it will be Bostad.