Stocker Says Bucs Want "All-Around Tight End"
June 4th, 2013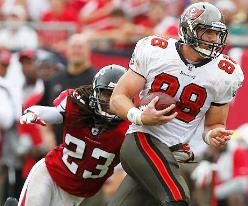 Kellen Winslow wouldn't block, couldn't block, or had no interest in blocking. Dallas Clark probably just couldn't.
And it seems the Bucs have had enough of one-dimensional TEs, so claims Luke Stocker, who is vying for a starting gig in Mike Sullivan's tight-end unfriendly passing attack.
"My goal this offseason is to build the confidence in the coaches and myself, and use these past two years behind Kellen Winslow, Jr., Dallas Clark, guys that are really established pass catchers, all the small things I've learned from them, try to put that in my own game and be the all-around tight end this organization is looking for." Stocker told Buccaneers.com.
Joe's always interested to hear from a player about what the organization wants. But can Stocker meet the Bucs needs in his third season?
Perhaps. Rockstar general manager Mark Dominik said Stocker has rocked up to 270 pounds from 250 pounds, and Joe's always considered a Stocker a solid pass catcher, though he's not quick, or a big threat up the gut of a defense, by any stretch.