"Run Micheal Run" In Detroit
June 4th, 2013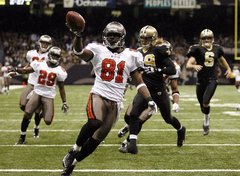 The Bucs have no established NFL kick returner or punt returner on the roster, which is a bit odd considering how much rockstar general manager Mark Dominik and Greg Schiano talk about craving fourth down success.
Last year's returner collection — LeQuan Lewis, Preston Parker, Arrelious Benn, Michael Smith, Roscoe Parrish, Jordan Shipley and Sammie Stroughter — didn't pan out, but the Bucs passed on adding a proven return specialist this offseason.
Joe's often lobbied for the return of one of the great figures in Bucs lore, Micheal "Run Micheal Run" Spurlock, who was a hard worker and a successful returner in 2010 for the Bucs, a solid wide receiver for a guy at the bottom of the flanker depth chart, and a legitimate third quarterback (his position in college.) And yes, Spurlock delivered one of the great moments in Bucs history, (seen here with Gene Deckerhoff's famous call coming at :34 of the video.)
With the Jaguars and Chargers last season, Spurlock returned a kickoff and a punt for a touchdown.
Today, Spurlock signed with the Lions.
If Spurlock is returning kicks and punts for Detroit when the Bucs head north in November, Joe will be holding his breath and crossing all fingers and toes. Will the Bucs have anyone that will make Lions fans do the same?