Secondary Effect From Secondary Upgrade
June 5th, 2013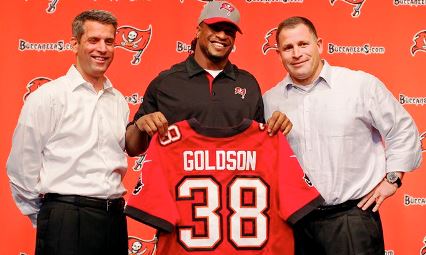 Last year, one reason Bucs rock star general manager Mark Dominik signed wide receiver Vincent Jackson was for his leadership skills. Dominik guessed, rightly, that his young receivers needed to learn from a solid vet how to be pros.
And that's exactly what happened. Jackson took fellow wide receiver Mike Williams under his wing, showed him how to put in the work off the field, if not on the field, that it takes to be a top tier NFL player.
This offseason, Dominik also applied the same philosophy to what was one of the most woeful secondaries ever to take an NFL field. It seems to be paying off already, and it is only early June.
Well after yesterday's Bucs OTA practice was over, a good 20 minutes, perhaps a half-hour, there was Darrelle Revis and Dashon Goldson working on tip drills and ballhandling drills with safety Mark Barron and cornerbacks Leonard Johnson and Danny Gorrer.
None of those guys needed to be out there. Surely Revis, rehabbing his surgically reconstructed ACL, and Goldson didn't need to be there. Johnson and Gorrer didn't have to be there.
But there they were, led of course by the new alpha males of the Bucs secondary, Revis and Goldson.
It was impressive for Joe to see. And Joe suspects this isn't the first time that has happened. These big brother-little-brother moments will pay off come September for the Bucs defensive backs.