Failure = Less Than 10 Sacks, Says Bowers
June 5th, 2013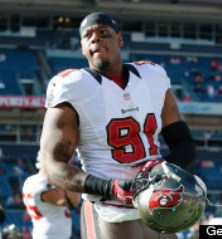 Back when Raheem Morris was guiding a super-young band of Bucs to a 10-6 record, the team was told to live by the motto "Stats are for losers," along with other one-liners to motivate and focus the "yungry."
But now there's been an about face. Greg Schiano is a stats guy.
Months ago, Schiano said he pegged Da'Quan Bowers as a double-digit sackmaster for 2013. And it seems Bowers has swallowed up the message. Bowers told Tampa Tribune columnist Martin Fennelly yesterday that he will deserve an "F" grade with anything less.
"I'm looking to be dominant," Bowers said. "I take the responsibility for that. Anything less than double-digit sacks is a failure for the season. … I think the way Coach Schiano has the scheme set up, and my capabilities, and having Gerald draw all the attention, it could be a whole lot easier to get double-digits sacks. You just have to work as a unit and not have individual rush planes, just work as a combined unit."
Twenty NFL players had 10 or more sacks last season; 13 of them were defensive ends.
Bowers is truly looking to step into elite company after notching three sacks in part-time action last season.
Joe's concerned that Bowers might get too caught up in the numbers. Yeah, Bowers is going to need to at least match Michael Bennett's production (9 sacks) to make this a successful season, but winning is still all that matters.