McNulty Tapping Lessons From Brunell, Warner
June 10th, 2013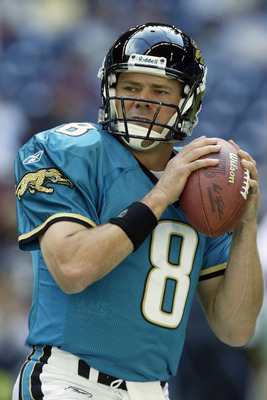 En route to becoming the Bucs' new quarterbacks coach, John McNulty had two well known gunslingers help teach him the art of QB communication: Pro Bowlers Mark Brunell and Kurt Warner.
McNulty entered the NFL as a quarterbacks assistant with the Jacksonville Jaguars learning under Chris Palmer, Bobby Petrino and perhaps more importantly, Brunell, That was back in 1998, when the Jaguars were a powerhouse under Tom Coughlin, who ran nearly the same offense the Bucs are running now, McNulty explained to Joe today.
"It was a unique perspective to sit in the room and watch the way a couple of different guys would try to communicate things in this [Bucs] system, what was kind of understood and what wasn't, what they thought [Brunell] understood and what [Brunell] would turn around and look at me and say, 'That doesn't make any sense.' Just to see it from the player's perspective was invaluable."
McNulty later was a heralded receivers coach with the Arizona Cardinals. He described Warner as operating a clinic on quarterback leadership, something McNulty soaked up.
"Working with Kurt Warner [as receivers coach] for a couple of years in Arizona was really enlightening because Kurt was a guy that kind of ran the show himself and showed a quarterback can convey the urgency needed and tell guys exactly what he wants, and he was able to back it up on Sunday with his performance. So that was really quite an experience," McNulty said.
Will any of this mean McNulty is an effective quarterbacks coach for Josh Freeman?
No. But it offers perspective on McNulty's clear focus on communication and preparation versus mechanics.
McNulty was a "scout team" level defensive back at Penn State when he met Greg Schiano, who was a graduate assistant coach there. The two loosely kept in touch before Schiano added him to the Rutgers staff, where McNulty became offensive coordinator.
Years in the college ranks didn't wipe out McNulty's deep knowledge of the Bucs' offense, which he told Joe multiple times is a near clone to what Tom Coughlin ran in Jacksonville and New York.
McNulty said he's being patient with Josh Freeman, even in the face of extreme pressure to succeed from various sources.
"It took Brunell a few years. It took Eli a few years in this system. It takes time to just be able to go out there and just do it," McNulty said. "So you try to simulate those reps as much as you can in the classroom, because physically it's just hard to get all the looks and the different plays and all that. And [Freeman's] been excellent with it.

"And I mean it could tire you out where you get to the point where you say, 'Hey, c'mon. I got this." But he's been very good with [studying.] He's a very intelligent football player. He knows a lot of football. He's played in a lot of systems. So, you know, he's able to funnel all of that knowledge and energy into, "Here's what we're doing here." You know what I mean, when you've played in three or four different systems, you can kind of just run them together. So I think the second year with this, what we're asking him to do, he's done a great job with it so far."
Again, McNulty is dialed in to the details of Josh Freeman's preparation and communication, all while he balances trying to get a rookie QB ready to win a football game. He's got his plate super full.
If somehow McNulty can pass on some of the Warner leadership or the precision of Brunell successfully, then the Bucs will benefit big time.