Stocker Could Log More Snaps Than Expected
May 28th, 2013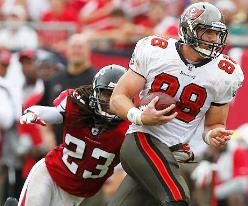 Just reading the tea leaves and sifting through the scant quotes about the tight end position since Dallas Clark left the Bucs/unofficially retired, it sure seems on paper that Tom Crabtree is your starting tight end.
Now Joe knows some Bucs fans slammed empty beer glasses because Bucs rock star general manager Mark Dominik didn't draft a tight end. In some ways, that would have been a wasted pick. Despite those Bucs fans wanted, it actually was a non-move driven by Bucs offensive coordinator Mike Sullivan and his hybrid Giants offense in which the tight end is not valued as a receiver.
Joe spoke to someone a few months ago who met quarterback Josh Freeman in a public setting. There, Joe's acquaintance told him, Freeman was asked if the Bucs should draft/sign a top shelf tight. Freeman shrugged his shoulders and said, "We don't use the tight end that much in this offense anyway."
Crabtree, various Packers beat writers have documented, is a strong blocker and some scouts — including Bucs coach Greg Schiano — believe Crabtree has the capability of being a fine downfield pass catcher. He flashed that ability from time to time in the limited chances he got on the frozen tundra of Lambeau Field.
But here is why Joe thinks Luke Stocker would get plenty of action even if Crabree is the starter: Crabtree has never started for a full season. Remember, Crabtree was in a logjam with the Packers stuck behind Jermichael Finley. In three seasons, Crabtree has started 16 games.
No one really knows how Crabtree will hold up physically for a full 17-week season as a starter.
This is why Joe is of the belief that Stocker would log quite a few snaps — to ease Crabtree into the transition from a part-time player to a full-time starter.