Penn Reacts Angrily To Report On His Girth
May 27th, 2013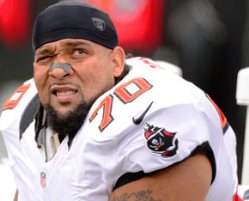 It didn't start out as a pleasant Memorial Day holiday for Bucs left tackle Donald Penn. The proud resident of the City of Angels awoke to a story on PewterReport.com that alleged Penn is failing his weight tests regularly and, as a result, is in danger of not staying with the Bucs after the 2013 season.
This didn't sit well with the normally laid back Penn, who took first to Twitter.
@DPENN70: This article here is some bullshit n false I been working hard n putting in work messed up my whole weekend
Then Penn reached out to the creator, curator and overall guru of ProFootballTalk.com, the great Mike Florio to vent.
In a tweet directed at our Twitter account, Penn declares that he's "330 right now in the best shape I been in in a long time stop reporting bullshit I made all my weigh in last yr n this yr."

He later added: "I still shut down the best DEs in the game n ball out every Sunday I gave up 4 sacks all yr last season get yo shit right."

Penn then apparently realized that the information came not from us but from Pewter Report.
In addition, Florio has several other Twitters from Penn about the report in which Penn used various forms of colorful language that he has since deleted from his Twitter feed.
Unless the Bucs went out and got a left tackle — there's not that many decent left tackles floating around looking for work at this time of the year — Joe finds it difficult to fathom Penn being bounced. Hell, the Bucs barely have the right tackle position locked up.
If anything affected Penn's play last year, it was the loss of left guard Carl Nicks, forcing Penn to be spread out a little too thin.
Look, Bucs rock star general manager Mark Dominik and coach Greg Schiano don't play games. If they are displeased, they won't hide it, which is why cornerback Eric Wright had to crawl back with his hat in his hands begging for another chance, then Dominik went out and beefed up the corner position big time.
Could Penn be gone by 2014? Sure, shoot, Joe may be dead tomorrow for all he knows. This year, barring something terribly unforeseen, Joe expects Penn to be in the starting lineup in Gotham against the Jets.