Doug Martin Drops The "S" Bomb
May 27th, 2013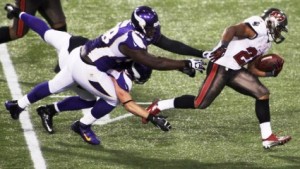 There's been little public chatter about winning a Super Bowl around One Buc Palace in recent years. Perhaps it's often done privately or in hush tones, but Joe often senses a hesitation by Bucs brass and players to even say the words "Super Bowl."
"Super Bowl" is just not a goal often verbalized by Bucs players, who just don't seem to want to talk a big game or speak about the ultimate goal.
Joe has no problem with players staying humble and focusing on day-to-day improvement, but it was still good to hear Doug Martin reference winning a Super Bowl in a recent Buccaneers.com interview after an OTA practice last week.
The Bucs have nine young former Pro Bowlers on the roster — nine — plus imported blood in Darrelle Revis, Dashon Goldson, Carl Nicks and other Super-Bowl winning coaches and players that should bring a Super Bowl mentality. Also, a guy like Martin, a legitimate star out of the gate, should be dialed in to a championship mindset. Bravo!
Heck, new tight end Tom Crabtree was emphatic last week saying that there is "no dropoff" in talent on the Bucs roster comparted to what he left in Green Bay.
Bucs fans and players should be thinking and talking about a Super Bowl. It should be why we're all here, and at least the current Buccaneers are legitimate longshots.