Getting Ronde Barber And The Hall Of Fame
May 14th, 2013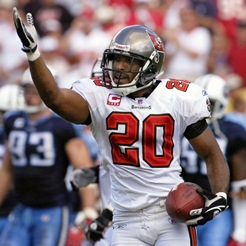 Yesterday, "TKras," Tom Krasniqi of WDAE-AM 620, lassoed Pro Football Hall of Fame voter Ira Kaufman of The Tampa Tribune for a few words on Ronde Barber and the Pro Football Hall of Fame.
Kaufman made no secret he is in Barber's corner, but he also cautioned Bucs fans who are of the belief that Barber will be inducted in his first year of eligibility in 2018.
"Look, [John] Lynch didn't get in the room [final ballot] last year; he didn't make it, he made it to the semifinals," Kaufman said. "Only four defensive backs who retired in the past 25 years have gotten in. I think he eventually gets in. But to say he's a slam dunk [is irresponsible]. That class of 2018 is shaping up as a tough one. Ray Lewis certainly, Randy Moss if he doesn't play again, and some other big boys that will be eligible — [Brian] Urlacher if he doesn't get picked up. There is quality people in that group. I'm just trying to apply a little perspective and I am getting beat up."
What complicates matters is only five players can be elected each year (and up to two additional players nominated by an old timers committee). As Kaufman pointed out when Krasniqi busted his chops for the Hall of Fame voters not electing Michael Strahan this year, "Who would you take out then, Jonathan Ogden? Bill Parcells? Cris Carter? Warren Sapp? Larry Allen?"
To hear the full interview, click on the button below.