Cryptic Mike Williams Contract Update
May 14th, 2013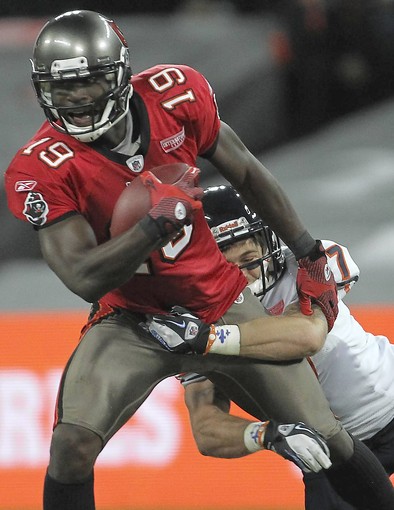 Joe brought word last week, via Tribune beat writer Woody Cummings, that the Bucs and Mike Williams scheduled a sit-down to discuss a contract extension yesterday.
Joe already detailed why he believes it's doubtful a deal gets done, but there's at least reasonable hope.
Williams, it seems, was peppered by fans on Twitter for an update yesterday, and he Twittered out a couple of apparent responses.
@MikeBuc19 – Sorry everyone didnt sign nothing today 🙁 I appreciate everybody for you guys concern but no matter what I'M STILL A BUC FOR LIFE!! ##BUCNA … GOOD THINGS DON'T COME TO THOSE WHO WAIT GOOD THINGS COME TO THOSE WHO AND EARNS IT
Perhaps the Bucs and Williams are miles apart on a deal, perhaps not.
It is, however, fair to assume that the Bucs are not interested in overpaying for Williams in May, and that Williams is in no hurry to jump on an offer now.
Joe predicts the Bucs will make another move to extend Williams just before training camp. The Bucs need to lock him up, and Williams, who is being paid like the fourth-round draft pick he was, might bite at some solid guaranteed money rather than risk injury in 2013.