No Worries With Linebackers For Mason Foster
May 27th, 2013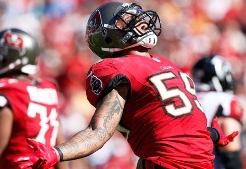 There is one regular commenter on this here corner of the interwebs who is absolutely stressed about who will be the Bucs' strongside linebacker. This commenter is freaking out worse than a drinker who bought a house in a dry county and just realized it.
It's May! There is a reason why NFL teams have training camps and preseason games to determine who will fill open positions.
One person who is not sweating is Bucs middle linebacker Mason Foster. The Bucs' own version of Ric Flair was corralled by the Buccaneers.com video crew after a recent OTA practice and Foster said he is confident the Bucs linebackers will be strong this year.
"It's good to get out here with the guys," Foster said. "It's good to actually play football but this is competition. We have a great group of guys. We have a lot of chemistry. We have a lot of athletes in the room. I am excited to see what we do this year."
Now Joe was highly critical of former strongside linebacker Quincy Black and his subpar play during the Raheem Morris era. But when he got some coaching, Black had the best year of his career and even Bucs coach Greg Schiano believed Black was improving at the time of his injury.
So if Bucs coaches can coach up Black, Joe isn't sweating bullets about who will replace him.
As for the commenter who nearly daily asks who will start at strongside backer, Joe feels so bad for him, Joe is almost inclined to lie and claim Player-X will succeed Black, just so said commenter can rest at night.